---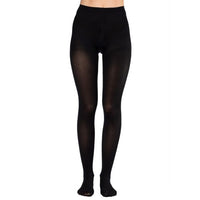 Opaque compression tights, not sheer stockings.

VERY FIRM & STRONG SUPPORT 20-30mmHG
Seamless, odor control, comfortable top band around the tummy. 
These compression tights combine function, fashion and comfort. Your legs look supported and beautiful and it's also beneficial for your health. They are easy to put on and comfortable to wear!
Compression technology designed to improve blood circulation, preventing aching legs, deep vein thrombosis (DVT), ankle and leg swelling, mild edema, spider veins and mild varicose veins. Strong and firm compression with moisture-wicking microfiber fabric with flat toe seams for maximum comfort. 20-30mmHG: Strong and firm support for ankle and leg swelling, tired and achy legs, discomfort, mild edema, minor spider and varicose veins. Learn more 
Use
Great for travel and long periods of sitting or standing to prevent swollen, aching legs and ankles.
Features
Graduated compression: Tightest at ankle & looser above
Comfortable waist band holds without binding
Moisture-wicking microfiber fabric for all day comfort
Others

Why it works? more How to wear? more Tips on how to care for your socks here
| | | | | |
| --- | --- | --- | --- | --- |
| SIZE CHART | Small | Medium | Large | Extra Large |
| Ankle Circumference | 18 - 21cm | 21 - 25cm | 25 - 29cm | 29 - 33cm |
| Thigh Circumference | 40 - 62cm | 46 - 70cm | 54 - 78cm | 60 - 81cm |
| Hip Circumference | 71 - 115cm | 76 - 127cm | 83 - 137cm | 102 - 166cm |